Maple Lodge Farms trial summary and our PDF report on the current state of chicken welfare in Canada
Largest chicken slaughter plant, killing about 500,000 chickens daily, including meat chickens and "spent" laying hens. The company has a long history of transport violations
60 past violations
With a long history of violations under the Health of Animals legislation, the Canadian Food Inspection Agency took Maple Lodge Farms to court for 2 of the 60 outstanding violations.
Sept 2011 to March 2014
Where: Ontario Supreme Court in Brampton
When: Sept 2011 to May 2013. Sentenced in March 2014
Key themes: Excessive numbers of chickens suffered and died from exposure during transport. The company increasingly focused on economics and neglected animal welfare.
Guilty on 20 charges
Guilty on the 2 charges tried in court plus 18 additional charges to which the company pleaded guilty.
Sentence: 3-years probation, fines, spending at least $1 million to modify trailers, facilities, and policies, and publishing on-going DOA statistics on the corporate website.
«Economics Over Welfare»Full report on the production, transport, and slaughter of chickens in Canada with details on the Maple Lodge Farms trial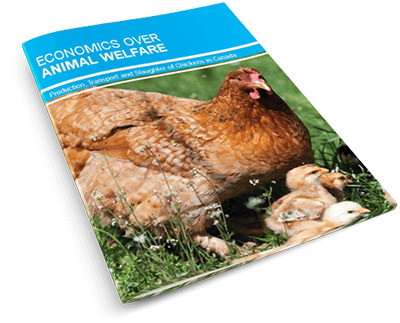 20 Recommendations Including:
Mechanically heated and cooled vehicles
No transport during extreme weather conditions
Mandated shorter transport distances and times
Canadian Food Inspection Agency to provide regular and consistent enforcement
Changes to the genetics of today's extremely fast-growing meat chickens
Improvements for bird-handling during pre-slaughter and slaughter, and more
Download full report (55-page PDF)
More pages